GRANDMASTER
Ricardo Murgel
Head Instructor - 9th Degree BJJ Red Belt
At Union Team BJJ, Grandmaster Murgel provides premier Brazilian Jiu Jitsu classes and programs for kids, teens, and adults in Alpharetta, GA. Come learn from the source.
I am Ricardo Murgel, the Head Coach, Instructor, and Founder of the Union Team. I am one of the few (less than 25) 9th Degree Grandmasters of Brazilian Jiu-Jitsu in the world. I have a unique background, with no parallel to any other BJJ Master or Professor.
I am currently 74 years old. l started my Martial Arts & Law Enforcement Journey at the age of 12, back in 1957, in Rio De Janeiro, Brazil. Since 1974, I am a Judo Black belt, and I trained and competed in Europe, Japan and Brazil, for almost 27 years, with extensive training in Boxing, Muay-Thai, Luta Livre (Free Style Grappling), Submission Grappling, and Mixed Martial Arts (MMA), as a competitor, Instructor, and Coach. I also have weapons expertise covering edged and improvised weapons as well as firearms. I am the only 9th Degree Grandmaster of BJJ that also is certified by the Peace Officer Standard Training Council (P.O.S.T) as a Guest Defensive Tactics and Firearms Instructor. I have been sharing my practical, hands on experience all over the world for more than four decades now. Read my full Q+A interview here.
In the field of Brazilian Jiu-Jitsu, Submission Grappling and Mixed Martial Arts, my accomplishments speak for themselves. I have trained and continue to train and coach hundreds of competitors, including dozens of World, National, and State BJJ and Submission Grappling champions. I have also trained and coached MMA fighters in the Pride Championships and the UFC.
As a Law Enforcement Instructor, with specialties in Extreme Close Quarters Combat and Science of Human Behavior (a.k.a. Management of Aggressive Behavior), I have instructed Law Enforcement Agencies all over the world, including Elite Forces.
Grandmaster Murgel Trained and Coached Hundreds of Top Competitors Worldwide
Here is a Brief List of World Champions of Brazilian Jiu-Jitsu, MMA and No GI:
Most renowned Brazilian Jiu-Jitsu, Submission Wrestling and MMA Events of the world:
Pan Americans BJJ,
Worlds BJJ,
NO GI Pan American and Worlds
ADCC (Abu-Dhabi World Submission Wrestling, 2001 and 2003
Mega World MMA
Max MMA
Pride Europe 2006
UFC (Ultimate Fight Championships)
Bellator
Champions in local, National and International Competitions:
Guilherme Freitas
Lucas Cardoso
Taylor Finato
Davi Bueno
Rodrigo Barcellos
Marcio Corleta
Rosangela Conceicao
Fabricio Werdum
Joao Assis
Mark Robinson
Thomas Foster
Parker Graham
Nicolas Crema
Nate Marquardt
Marcelo Behring
Guilherme Cury
Quentin Rozenzweig
Monique "Moe" Travis
Alex Enriquez
Jessica Propes
Valdir "Kbeca" Linhares
Grandmaster Ricardo Murgel's Videos & Techniques
What Our Students & Parents Say
I have trained with Grandmaster Ricardo Murgel in the past and I was very happy to hear of the opening of his school in Alpharetta. Jiu jitsu has been a great way to get in shape, to train my body and mind, but what I have enjoyed the most of all is to learn from Grandmaster Murgel, an 8th degree Jiu Jitsu Black Belt. Grandmaster teaches jiu jitsu in a way that is welcoming to all, from a beginner to advanced. As a woman, I was interested in also learning self defense for myself and my son. It's been helpful to know what to do in real life situations, which is also taught in class. I would recommend Union Team BJJ for anyone who is interested in learning from a teacher who is one of the very best in the world of jiu jitsu. We are so lucky to have him here in Alpharetta!
Grandmaster Murgel is astonishingly knowledgeable. I've been training since August 2018 and in spite of my frequent travels out of town for work, I'm making progress. One thing you quickly recognize about his lessons - absolutely nothing he does is random, yet all of it is fluid and adaptable to changing situations and the ability of the student. I'm seeing my health improve as well, down 30 pounds since I started training. Who knew working this hard could be this much fun?
Grandmaster Murgel is an inspiration to all. He shows self protection is possible for anyone. At any age. He embodies the warrior spirit and and like a true warrior, he passes his knowledge down. Literally one of the very few handful of people in the whole world with his back ground. His knowledge. His credentials. His skills. And most importantly- his ability and willfulness to pass all that down to us. Search, do your homework. You will not find anyone with Grandmaster Murgel's credentials that is actively teaching in Atlanta. Or anywhere else for that matter.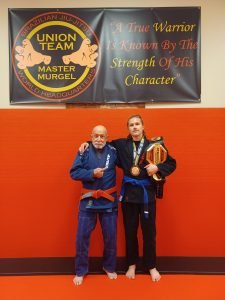 Uncategorized
Congrats to Kostas Sarapnickas ,still with 15 y.old that just won the NewBreeds Federation World Jiu-Jitsu Championship, on the 16-17 years old Blue Belt Middleweight
Read More »