Traditional Brazilian Jiu-Jitsu & Martial Arts School in Alpharetta, GA
REQUEST MORE INFORMATION. ENTER YOUR DETAILS BELOW:
Our Alpharetta Martial Arts Programs
Jiu Jitsu Training for Kids & Adults
Welcome to Union Team BJJ
Teaching Real Brazilian Jiu-Jitsu for Over 35 Years
Union Team BJJ was founded by Grandmaster Ricardo Murgel in Brazil in 1985. We now have affiliates all over the world! At Union Team, we pride ourselves on teaching our students real Brazilian Jiu Jitsu (BJJ). BJJ is an amazing mental and physical activity for kids, teens, young adults, and adults of all ages that are interested in learning practical real-world martial arts for real-world situations. 
In addition to the practical applications of jiu jitsu, Union Team BJJ in Alpharetta, GA also trains students according to their goals for competition in sport-oriented BJJ, including high-level competitions. We are proud to have dozens of local, national and world champions among our members and affiliates.
We take a huge amount of pride in providing our competitors with the best training in the world. Our goal is to help them achieve their competitive goals in the ever-growing sport of BJJ.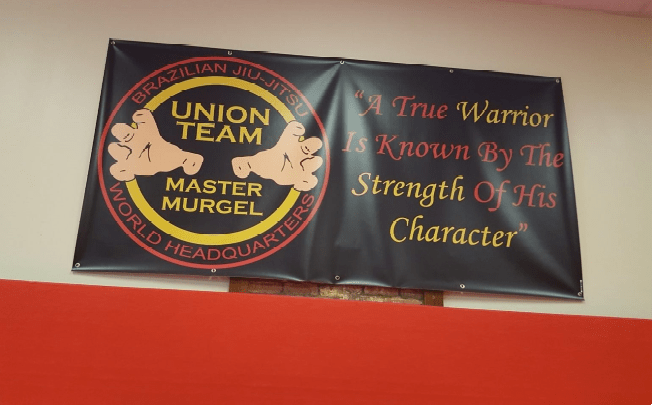 Learn Directly from the Source -
9th Degree BJJ Red Belt, Grandmaster Ricardo Murgel
When you train with us, you get to learn and practice real Brazilian Jiu Jitsu from Grandmaster Ricardo Murgel – one of the few REAL Grandmaster of the sport!
There is no substitute for knowledge and years of practical experience, which is why jiu-jitsu students travel from all over the world to learn directly from the source, Grandmaster Murgel. 
Every martial arts class at Union Team BJJ is led by Grandmaster Murgel. He is one of the few Ninth Degree Black Belts in the world, certified by IBJJF(#28930) and FJJD(#144). Grandmaster Murgel is also a Judo Black Belt under the Judo Brazilian Federation as of 1974 and he incorporates this experience into all of his classes.
Grandmaster Murgel has over 50 years of experience training elite forces all over the world, as well as successfully coaching BJJ and MMA students of all ages and sizes to become statewide, national, and even world champions!
Click the button below to learn more about Grandmaster Murgel or call today to book a class or private lesson. 
What Our Students & Parents Say
I have trained with Grandmaster Ricardo Murgel in the past and I was very happy to hear of the opening of his school in Alpharetta. Jiu jitsu has been a great way to get in shape, to train my body and mind, but what I have enjoyed the most of all is to learn from Grandmaster Murgel, an 8th degree Jiu Jitsu Black Belt. Grandmaster teaches jiu jitsu in a way that is welcoming to all, from a beginner to advanced. As a woman, I was interested in also learning self defense for myself and my son. It's been helpful to know what to do in real life situations, which is also taught in class. I would recommend Union Team BJJ for anyone who is interested in learning from a teacher who is one of the very best in the world of jiu jitsu. We are so lucky to have him here in Alpharetta!
Grandmaster Murgel is astonishingly knowledgeable. I've been training since August 2018 and in spite of my frequent travels out of town for work, I'm making progress. One thing you quickly recognize about his lessons - absolutely nothing he does is random, yet all of it is fluid and adaptable to changing situations and the ability of the student. I'm seeing my health improve as well, down 30 pounds since I started training. Who knew working this hard could be this much fun?
Grandmaster Murgel is an inspiration to all. He shows self protection is possible for anyone. At any age. He embodies the warrior spirit and and like a true warrior, he passes his knowledge down. Literally one of the very few handful of people in the whole world with his back ground. His knowledge. His credentials. His skills. And most importantly- his ability and willfulness to pass all that down to us. Search, do your homework. You will not find anyone with Grandmaster Murgel's credentials that is actively teaching in Atlanta. Or anywhere else for that matter.